Description
AUCTION DATE:     November 16, 2017  
***THURSDAY EVENING AUCTION!***
AUCTION TIME:      6:00 p.m.
LOCATION:     ON SITE  |  11840 230th St.  |  Linwood, KS
OPEN HOUSE/INSPECTION OPPORTUNITIES:  Nov 1, 2017 3:30-5:30 pm and/or Nov 11, 2017 9:30-11:30 pm OR by appointment!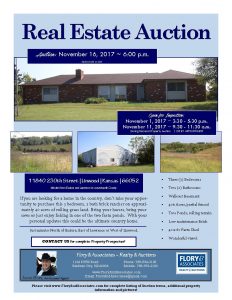 PLEASE NOTE:  We will be holding a Personal Property Auction on November 11, 2017.  Feel free to visit our "Farm & Livestock Auction" page to view the sale bill and get additional information on this upcoming Auction!
Property Documents