Description
ESTATE AUCTION!
Saturday · July 13, 2019 · 9:00 a.m.
Seller: WANETA D. TURNER ESTATE
Douglas Fairgrounds ~ 2110 Harper, Lawrence, KS
Building 21 • Climate Controlled!
AUCTIONEERS NOTE: This is the 1st of 2 Auctions as Waneta decorated her house and had a booth at the Quantrill's Flea Market in Downtown Lawrence for many years! Many Unusual Collectibles & Primitives & the Quality is EXCEPTIONAL! DO NOT MISS THIS AUCTION! Many Unlisted Items … Especially Miniature & Cat Items. TWO Auction Rings! Plan on Spending ALL DAY!
Contract Jason Flory (Auctioneer) with questions regarding this auction at 785-979-2183.    Concessions: Worden Church Ladies 
Crockery:

Dodson & Braun's Fine Pickles St. Louis Pickle Jar Crock, #2 AJ Buttler/Red Wing/Ottman Bro's crocks, 1 gallon Prov-Pub Market Co. Prov. R.I., Portland #3 with mold handles, #1½ & #3 crocks with lamps, 10 gallon Whisky Jug, 1901 #2 butter crock with lid, crock pitchers (Acid Proof, Sletteland & Mikkelsen Holmen WI., etc.!), salt crocks with lids, 1901 #2 butter with lid, butter crocks & jugs of all kinds! MANY OF THESE HAVE BLUE MARKINGS!, Large Selection of Blue & Brown/Tan Sponge Ware Crockery (Royal Cumberland, Italy, etc.!), 15" Roseville crock mixing bowl, Blue Band mixing bowls, Gibson blue dish set, Many Unlisted Crockery!; #40 Dazey with Sunflower butter churn; wooden butter churn; Very Large selection wooden molds Springerle, etc.; butter paddles with handles; large Well Bucket Pail; dough cutters; 5 piece wooden dough bowl set; numerous Firkin buckets/pails (some with lids); vintage baskets of all sizes; enamelware (Blue Swirl/Grey); 26" Tindell's Hatchery (Burlingame, KS) embossed sign; 25" Leaf Spearmint Chewing Gum sign; Bread Daily sign; Orange Crush sign; Coca-Cola round thermometer; Harvest Moon Produce thermometer. 

Advertising Tins:

White Swan Spices, Edgemont Crackers, Cocoa, Red Wolf coffee, Dr. Johnson's Crackers, Gillette Razors, Golden Rule Marshmallow, Union Leader Tobacco.

Cast-Iron:

Cats, Door Stops, Boxer, Banks, Donkey, Horse & Chariot; Arcade Model T & Fordson Tractor w/driver; Billiken Shoes bank; Cat & Mouse Mechanical Bank; Marx pull cat; Bartender/ 2-Rockin Roll Monkey/Beethoven The Piano Playing Dog/Popcorn Vender, ALL Have Original Boxes!; Scale Ford Model T with box; Roy Roger's Mineral City metal toy; Lazy-Day Farm metal barn; Star Wars lunch pail & game; Star Trek game.

Doll • Miniature • Salesman Sample Collection:

roll-top desk with chair, cook stove, dresser, chest, end table, kitchen cupboard, table chairs, many many small miniatures un-listed!; '60s women's Jayhawk pocket book; Precious Moments Native American Dolls "Yamka & "Amitola"; porcelain vintage dolls; baby clothes; mantel clocks; military medals; fountain pens; Fresh'No-Aire Model #20 fan; wooden yarn spools; Champion 6-Lever & Army locks; arrow heads; Am. Boy Scout tin; bridal rosette; covered wooden wagon; post cards; vintage pictures & photos; UNUSUAL Metal Boot Scrape; kraut cutters; wash boards.

Glassware:

Blue Willow, Germany, Carnival, Limoge, Clear, Ironstone sets, 200+ Salt & Peppers sets; Blue Currier Ives set; Puss'n Boots Cookie Jar & Creamer; pottery set; COCOA Boston Amber Jars; 4 – ½ gal. Chemung Spring Water jars; Beaver chocolate metal mold; sewing items; quilts; kitchen primitives of all sorts.

Books:

1913 Law. Today & Yesterday Paper, McGuffey's, Lawrence, Baldwin, Eudora, Vinland, KS, Western, Cook, Many More!, Time Life Leather Western Set; sheet music.

Costume Jewelry: 

large selection.  Box lot items!

NUMEROUS ITEMS TOO MANY TO MENTION!!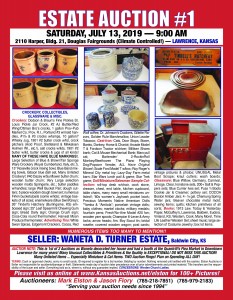 Property Documents