Description
FARM AUCTION  • Katherine L. Neis Estate
Saturday • October 3, 2020 • 9:00 a.m.  • 1232 E 2300 Rd, Eudora, KS
Directions:  South of Eudora Kansas on Dg. 1061 (E 2200 Rd)  to N 1200 Rd, East 1 mile to E 2300 Rd, North 1/2 mile on E 2300 Rd to Auction. Watch For Signs!
AUCTIONEERS NOTE:  The Neis family has  operated on this farm for over a century.  Please join us sale day in person or on the Internet to bid on some outstanding equipment.  All internet purchases must be paid for either in person or by wire transfer by 3 p.m. Monday, October 5th.
Due to Covid-19 we are taking precautions for the health and well-being of our Clients, Customers & Staff. LIVE online bidding will be available. Out of the abundance of caution and in accordance with local, state and federal guidance/recommendations in place, please follow social distancing while attending. We ask everyone to please do what is best for themselves and if in doubt, please stay home.  Thank you for your patronage and cooperation with the "new normal" of the auction industry. Thanks, Jason.
Please feel free to bid online with no added fees at www.LIVEAUCTIONS.TV.  Must be pre-registered online by 10/2/20. If you have trouble registering please contact Ben Gleason at 785.640.9390.  
Please join us, there is a little something for everyone! Loader available sale day only. 
Concessions: Clinton Church Ladies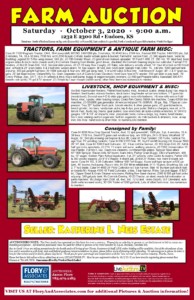 Property Documents