Description
AUCTION DATE:     November 28, 2023 ** Tuesday Evening! **
TIME:    6 p.m.
LOCATION:     ON SITE  |  2720 Lockridge Drive  |  Lawrence, KS
SELLER:     The Trust Company, Successor Trustee of the Lorie A. Vanchena Revocable Living Trust 
OPEN HOUSE/INSPECTION OPPORTUNITIES:  Sunday, November 19th 1 – 3 pm & Tuesday, November 21st 4:00 – 6:00 pm OR by appointment! Call Jason, Wendy or Kaylee for appointment.
Additional pictures coming soon!
VIEW PROPERTY PROSPECTUS by clicking here! (coming soon)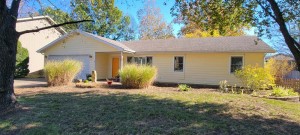 AUCTION TERMS and CONDITIONS
Properties being Sold:             2720 Lockridge Drive, Lawrence, KS 66047
Down Payment:    Buyer will provide a Twenty Percent (20%) non-refundable down payment/earnest money the day of auction, upon signing a purchase agreement immediately following the close of bidding.  The down payment may be paid in the form of personal check, business check or cashiers check and will be held by ELAND TITLE COMPANY, LLC.  The remainder of the purchase price and closing costs is payable at closing.  YOUR BIDDING AND PURCHASE AGREEMENT WILL BE NON-CONTINGENT UPON FINANCING, be sure you have arranged financing, if needed, and are capable of paying the balance at closing.
INSPECTIONS:     Property will be available for inspections during the scheduled SUNDAY, November 12th 10 – 2:30 pm, SUNDAY, November 19th 1:00 – 3:00 p.m.  & TUESDAY, November 21st 4:00 – 6:00 pm OR by appointment for all inspections including but not limited to electrical, mechanical, structural, septic, mold, radon, lead-based paint, termite and/or any other inspection of your choice. Property will be sold "as is".  Your bidding and Purchase agreement will be NON-CONTINGENT on Inspections.
Title: Seller shall provide clear title and execute a proper deed conveying the real estate to the Buyer (s).
Possession: Possession will be given at closing upon recording of deed.
Real Estate Taxes:  Real Estate taxes shall be pro-rated at closing for 2023 taxes.
Easements: Sale of property is subject to any and all easements of record.  See preliminary title commitment within this brochure.
Closing: Anticipated closing date shall be on or before December 28, 2023 or a date mutually agreed upon between the Buyer(s) and Seller(s) conducted at the office of Eland Title Company – Lawrence, KS.
Agency: Flory and Associates and its representatives are Exclusive Agents for the Seller's.
Disclaimer: The property is being sold on an "as is, where is" basis, and no warranty or representation, either express or implied, concerning the property is made by either the Sellers, Real Estate Agents and/or the Auction company. Seller has the right to accept or reject the final bid.  Each bidder is responsible for conducting their own independent inspections, investigations, and all due diligence concerning the property and the auction.  Information contained in this brochure is subject to verification by all parties relying on it.  Diagrams/dimensions in this brochure are approximate.  Acreage is estimated.  All information contained in this brochure and any related material are subject to the terms and conditions of the sale outlined in the purchase contract.  Auction conduct and bidding increments are at the sole direction and discretion of the auctioneer.  All decisions made by the auctioneer are final.  The Sellers and the Real Estate Auctioneer reserve the right to preclude anyone from bidding if there is a question as to the person's credentials, fitness, intent, etc.
New Data, Corrections and Changes:  Please arrive prior to scheduled auction time to inspect any changes, corrections or additions to the property information.  ALL ANNOUNCEMENTS AND INFORMATION GIVEN/MADE FROM THE AUCTION PODIUM SHALL TAKE PRECEDANCE OVER PREVIOUSLY PRINTED OR STATED ADVERTISEMENT.
 I have read & understand the TERMS & CONDITIONS of this auction.  To be signed by Bidder/Potential Buyer when obtaining a bidders number.  
Click to view prospectus.